Countdown as started… all techgasp plugins will have a new and very much tweaked up wordpress framework. based upon our customer reviews and requests. Coming soon.
What's in the new Framework?
Honestly, everything is pretty much new. Just the foundations of the plugins are the same, professional hight quality plugins, tested for fast and furious page load times, tested for SEO and permalinks and, discarding any use of javascript (main cause of errors, conflicts and slow page load times).
Plugins Text-Domain
Not that our old wordpress text-domain was faulty, by the contrary works just fine for almost one year by thousands of users. The new text-domain allows us to implement big changes to the plugins updater and shortcodes. Read about those exciting developments below.


Plugins Eye Candy
All the plugins get a new and revamped look. The plugin administrator page, the widget administrator page and the administrator shortcode box were built from scratch and redesigned. More eye appealing for the wordpress administrator but without compromising the backend or frontend page load times. Again, unlike other developres we made no use of Javascript or heavy CSS files.

Plugins Shortcodes
Another new huge feature is the TechGasp shortcode framework v2.
No more weird and hard shortcodes to insert the widget into your wordpress pages and posts. Look and behold the image on the left.
The shortcode framework v2 is available when you edit a page or a post, inside a cosy box under the wordpress text editor. How easy is that!!!
…that's not all, it comes with an optional preview button so you can see what the shortcode renders "looks like" before adding it into your page or post.
Just add the shortcode [spotify-master] into any position of your text. spotify-master is just an example, you will have to replace the name with your correct plugin name, ie. social-master, soundcloud-master, tweet-master, etc.
Asked many times by our users… how to align text to the left of right of the shortcode. In the old days you needed to insert the shortcode in between a divider <–DIV–>, now you can specify that setting inside our "cosy" shortcode box and it will be done automatically. We have good documentation online for every plugin, as you can see on the image we also added quick links and buttons to our online docs.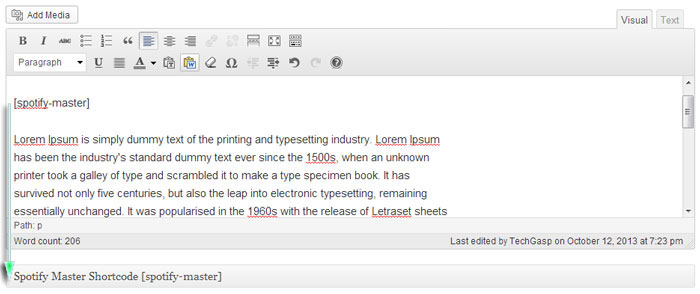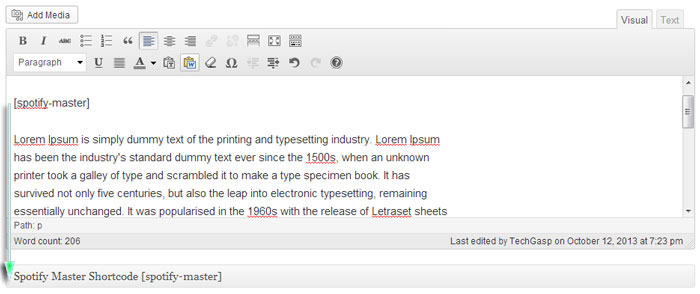 Plugins Updater
If you are an Advanced TechGasp plugin user, you remember the old upgrade procedure. Well, we are happy to announce that we have integrated the advanced plugins with the wordpress native updater. You will be notified of a new version release inside your normal wordpress plugins updater and you can update the advanced plugins with a single click, same as any other wordpress plugins.