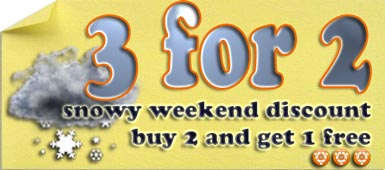 This snowy weekend only… 3 for 2
With all the snow we are nuts this weekend, you can choose 3 of any of our award winning extensions and pay only 2. Only available from 18.11.2012 till midninght next sunday 19.11.2012. Read more below.
Crazy joomla snowy weekend…
All joomla extensions were tested with the latest versions of Chrome, Firefox and IE. Working flawless with all. Also since we are linux developers and are nuts about error logging… everything works flawless without any php errors.
Yes you got it right, buy 2 and get 1 free. This offer is only available this weekend and allows you to buy 2 extensions and download 3. To take advantage of this offer, please follow these instructions:
If not already, register and create an account
buy away with paypal, when process is done…
go to the desired extensions page and download away
1 year updates and support are included, you got to love it!!!
ATTENTION!!! THIS DISCOUNT ONLY APPLIES FOR EXTENSIONS WITH €20 PRICE, choose from around 60 extensions valued at this price.
CRAZY SNOWY WEEKEND BUTTON BELOW, registered users