This tutorial applies to all TechGasp plugins and refers to their installation and update. Social Master is just an example for better understanding, you should replace it with your plugin name.
Installation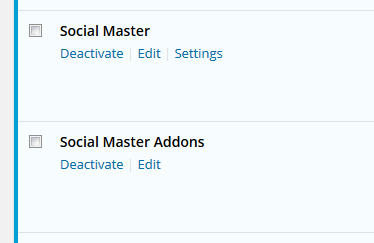 First install the base plugin from wordpress.org. You can do it straight from your wordpress plugins administrator page by simply clicking add new and search plugin. The screenshot exemplifies Social Master, you would search "Social Master" and then click install. Remember to search your desired plugin example, Soundcloud Master, Pinterest Master, etc.
Second install the addons plugin for Social Master. For that you need to download it:
From your purchase email download link (link is valid for 72 hours)
At any time from your Account page top menu Support My Account
Update
Updates will only work if you insert your license key into the plugin license page. Your license can be found:
Purchase email
Your Account page top menu Support My Account
Insert your license into the License Key field. Press Save Changes
Afterwards press Activate License. Green text "Active" will appear.

Once the license key is in place you will get the normal wordpress update notifications. Updates are integrated into wordpress, just use the normal wordpress update process from the plugins administrator page or dashboard updates page.

License Key
Once again, the license key is very important to keep your plugin up-to-date with code fixes, code speed-ups, API updates, wordpress updates, security fixes and new features added to addons. Make sure you insert and activate it.
Need more help
If you have questions or need help, please reach us via Support Ticket.
Same applies to old version plugins with active license that require a new license key and download link for versions 4.4.2.x. Just issue a support ticket and we will be happy assist you.
Safari browser users, Stop Safari browser from unzipping files.